67 YEARS OF COUNTRYSIDE BANKING
RANG-AY BANK obtained its authority to operate under R.A. 720 from the Central Bank of the Philippines on January 14, 1956. Founded by Mrs. Numeriana T. Querol as Chairman and Mr. Teofilo A. Nisce as President, it had Atty. Rodolfo M. Nisce as Manager. It has since grown into a 30-branch network serving Ilocos and Cordillera Regions.
In more than six (6) decades of service, Rang-ay Bank garnered numerous awards that attest to its banking excellence and prove that its name Rang-ay (Ilocano for Progress) is well-deserved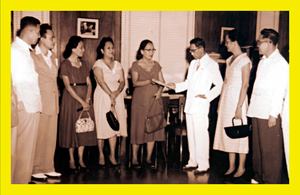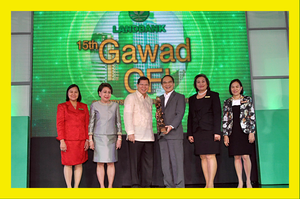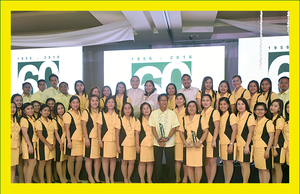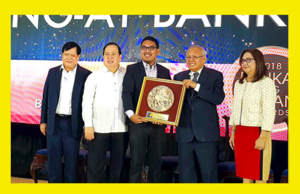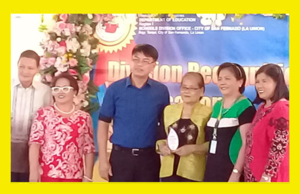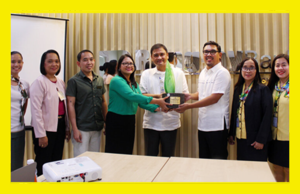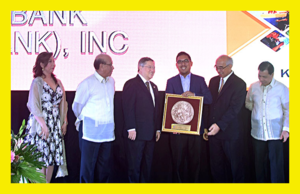 • In 1975, when the Central Bank adjudged it as an outstanding rural bank, Rang-ay also became the biggest rural bank in Region I and CAR
• In 1994, the Quedan and Rural Credit Guarantee Corporation awarded it the Gawad Quedancor as the leading bank in its Food Market Retailers lending program
• For 1994-1998, the Countryside Financial Institutions – Management Development Program named Rang-ay as one of the ten countryside banks with the most improved systems, procedures and overall operations
• In 1996, 1997, 1999, 2001 and 2002, it was a national recipient of the Countryside Loan Fund and was recognized as the most outstanding participating financial institution among all conduit banks
• In 2000, it received the Gold Award for Excellence for consistently delivering superior and innovative products and services: that same year, it bested all rural bank conduits of Western Union and Uniteller money transfer facilities in the country
• In 2002 and 2003, the Land Bank of the Philippines named Rang-ay as the most outstanding countryside financial institution at the regional level
• The Bureau of Internal Revenue District Office cited Rang-ay as the second biggest taxpayer in La Union four times during the mid-2000s
• The La Union Provincial Government cited Rang-ay in 2006 and 2007 as the "Most Outstanding Entrepinoy Investor,"
• In 2008, Rang-ay won six awards (Grand Slam) from PETNET-Western Union during its 10th Anniversary celebration
• In 2010, Globe Telecoms named it its "Top GCash Partner," and
• In 2013, the Land Bank named it "Best Partner Bank in Northern Luzon" and "Best CFI Intermediary" because of Rang-ay's policy to make credit available to people at more affordable rates
• The 2016 Balikat ng Bayan Best Collecting Partner Bank(rural bank category) was awarded to Rang-ay Bank, for consistenly being among the nation's top institutions with the highest collections and processing a large volume of transactions with its wide coverage. Rang-ay Bank was the only rural bank national awardee of the Social Security System for the year. The National award was presented by Dept. of Finance Secretary Carlos Dominguez III and SSS President Emilio De Quiros Jr to Rangay Bank Vice-President Ives Jesus Nisce II at the national awarding ceremonies held at the SSS Main Office, East Avenue, Diliman, Quezon City on September 2, 2016.
• In 2018 Rang-ay Bank awarded once again as the 2018 Balikat ng Bayan Best Collecting Partner Rural Bank for being the nation's top rural bank with the highest collections while processing a large volume of SSS transactions throughout it's wide area network. The National Award was presented by SSS President and CEO Emmanuel Dooc, Sen. Richard Gordon and Incoming SSS Chair Aurora Cruz Ignacio to Rang-ay Bank Vice-President Ives Jesus Nisce II during the SSS 61st Anniversary Celebration and National Awarding held at SSS Building, East Avenue, Diliman, Quezon City last September 21, 2018.
• In 2019, Rang-ay Bank President and CEO Ives Jesus Nisce II received a Presidential Award of Distinction in grateful recognition for his invaluable support, contribution and commitment to CREBA-La Union Chapter. Rang-ay Bank also received a plaque of appreciation in recognition for its generosity to the CREBA as a major sponsor of the club for the past three (3) years.
• Rang-ay Bank received the Gawad Pilak Award from LBP in recognition of 25 years of continued partnership last October 17, 2019 at the bank's Head Office in San Fernando City, La Union. The award was presented by LBP Assistant VP Adeline Ramos, Department Managers Jesus Allegre (LBP SFC), Elizelda Calica (LBP Agoo), Ferdinand Palaganas (LBP Bauang) and Account Officer Janyfi Cisnero. On hand to receive the award were Rang-ay Bank President & CEO Ives Jesus Nisce II, Sr. Remedial Management Manager Nina Francisca Palabay and Credit Management Officer Kaye Ann Culbengan. "PILAK" stands for "Pagkilala sa mga Institusyon at Indibidwal na Lumingap sa mga Adhikain para sa Kaunlaran".
• Rang-ay Bank Director Flora Ignacio and Area Manager for Central Branches Thelma Evelyn Tabafunda received a plaque of recognition from the Schools Division Office-City of San Fernando, La Union headed by CESO V Rowena Banzon as a partner in the improvement and delivery of education in the city last November 8, 2019 at San Fernando South Central Integrated School, Tanqui, City of San Fernando, La Union. The plaque of recognition was awarded to institutions who contribute and participate in the different programs, projects and activities of the Department of Education.